Instead of Fast Fashion, Shop The Fore
In our current rocky political climate and ever evolving world, it is very easy to feel helpless. How can just one person do anything to change the seemingly chaotic, angry, and wasteful society that exists around us? We do what we can to shop sustainably, be less wasteful, and cut things out of our diets to make an effort to help what seems to be a constant uphill battle of saving our planet. It truly seems as though for every good deed that is done with the intent of a positive impact, five things are done by someone else to counteract it. It is important to keep in mind that a community working as a thousand individuals does nowhere near as much good as a community working as one group, one team.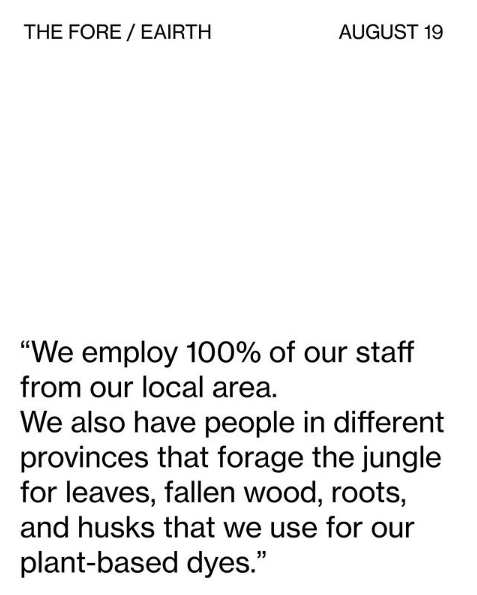 This 'team' mindset is applicable in business, art, work, and play. A brand that has fully embraced this concept and made it their own is The Fore. The Fore applies the "art of collaboration" as a home base for their products and designs. In each collection they release, their clothing or jewelry pieces are created in partnership with "independent artists, designers and entrepreneurs from around the world", which gives the creators that have been featured exposure to the brands fanbase, all while conceiving a beautiful piece of art. The community that makes up The Fore values transparency and ethics, which is to be greatly valued considering how much most popular clothing brands make an effort to hide their damage to the environment around them. One of the largest pollutants to clean water in the world are the textile dyes used in the fast fashion industry. Not only do these dyes wreck the water that may have, at one time, harbored life in its respective rivers, streams, or lakes, but washing many of the garments made in these fast fashion factories shed plastic microfibers into water sources that add to the millions of tons of platic waste that exists in our oceans today.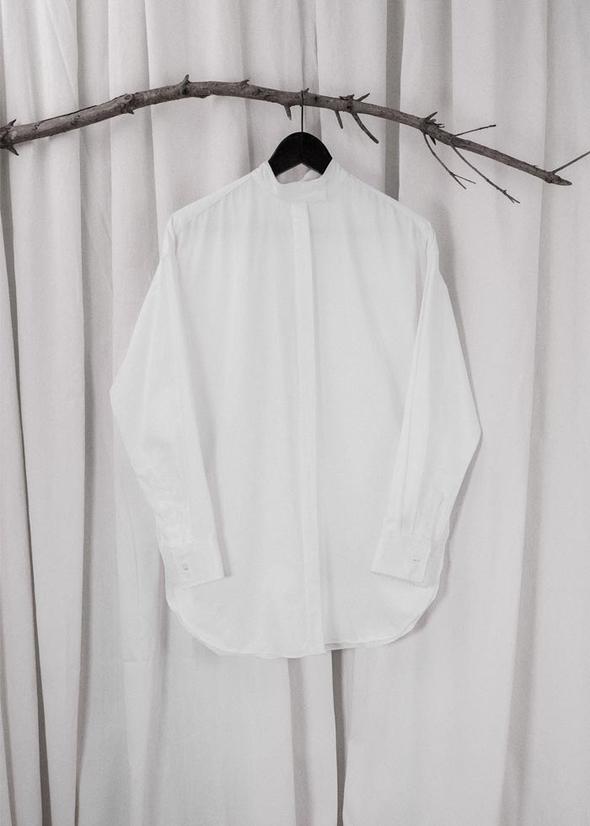 To combat the terrible effects of fast fashion factories on our environment, The Fore uses, "natural dyes from madder and alkanet roots … Pieces from the collection are hand-dyed, oftentimes by the founder, Vivien Ramsay, herself.". If one had to describe The Fore in three words, the words used would be something along the lines of futuristic, elegant, and simple. Their classic Button Down shirt, which is available in both black and white, is accented with a Chinese collar and dropped shoulders, which helps to breathe new life into an everyday workplace staple. Suggested to be worn with The Skirt, or underneath The Dress, a spin on the well known Little Black Dress, The Button Down is one of the most vesitile and easy to wear pieces that The Fore offers.
An item very unique to The Fore is their take on an all-weather windbreaker. The Windbreaker, as they call it, is one of the brands most futuristic looking garments. Coming in a few different cuts (one short sleeved, one long sleeved, and one that comes down to the knee), The Windbreaker offers a kind of ambidexterity to the mundane "overcast day" type of raincoat. With its sleek fabric and cinched waist, The Windbreaker seems as though it could have been taken out of a dystopian novel.
While boasting a very impressive price tag of one to two hundred dollars a garment, The Fore offers to consumers something that is not currently available across the market: a sense of community and closeness to artists and designers from all across the world.
*photos courtesy of brand